About Shepherd Neame
Britain's oldest brewer Shepherd Neame has been based in the market town of Faversham, Kent for over 300 years. Perhaps best known for great British classic ales such as Spitfire, which carries the Royal Warrant, its diverse portfolio includes Five Grain Lager, Bear Island East Coast Pale Ale and Bear Island Triple Hopped Lager, and the Whitstable Bay Collection. It also brews international lagers under licence including Samuel Adams Boston Lager, and is the sole UK distributor for premium Thai lager Singha. The independent family business boasts an award-winning visitor centre and more than 300 pubs and hotels throughout London and the South East, from the historic heart of the City to the Kent coastline.
Outline your role at the company
I have worked for Shepherd Neame for the last 10 years as Head Development Chef. I am responsible for chef recruitment and training; managing our relationship with food suppliers; kitchen design and equipment; and menu creation. I also manage two development chefs who travel around Shepherd Neame's pub and hotel estate to offer bespoke, one-on-one advice and support to our food teams.
Why did you turn to Ten Kites?
We previously used a menu recipe management system that could generate reports for allergens but nothing in real time. Following the change in EU law on allergens, we needed a system that could publish allergen advice to our website rather than rely on printed reports that could be obsolete within hours of being printed.
We wanted to ensure there was no possibility of giving a customer incorrect - and therefore illegal - allergen advice.
Solutions
When identifying our requirements for the menu recipe management system, it was just as important for our customer journey to be simple and easy to navigate as it would be for our team members. We looked at a number of market-leading solutions within the industry offering real time allergen reporting, before deciding to go with Ten Kites. We chose Ten Kites because of the ease of user interface and the fact that it was already integrated with our menu management tool Starchef.
Implementation
The implementation took a lot longer than the Ten Kites team had advised us to allow, due to getting the correct set-up for all our sites and ensuring the best use of the system. In hindsight, I feel that we should have spent more time sketching out how the system worked on paper before it was built. Ten Kites provided a lot of support with this online and via telephone calls, although more face-to-face contact would have been helpful. A lot of the set-up was completed by Ten Kites personally, however, which did make it easier for us. They have also provided ongoing assistance with adapting Ten Kites as new parts of the program became available, which have been extensive and well-supported.
Results
From the moment of going live, there was an immediate improvement as potentially out-of-date paperwork was replaced with a live feed sharing the latest allergen advice with all our individual pub websites, which is easy for customers and team members to navigate. Our team members now have access to live feed allergen reporting for not only the plated dish but all the ingredients in the recipe, making it quicker and easier to identify the exact cause of allergen and see if a dish could be adapted to remove an allergen.
We have seen a significant increase in customers viewing our menus and allergens online since launch, and this has continued to grow steadily. The data captured from this is useful as we can identify popular menus. The dietary filter reporting is also very useful, to see what our customers are looking for in both allergens and dietary requirements. As new tools have become available within Ten Kites we have started to introduce filters to our web pages to help improve the customer journey further. These have included searches for vegan, vegetarian and dishes under 600 calories along with all the legal allergen filters.
Shortly after we launched Ten Kites, we turned on a menu download button that allows our customers to download pdfs of both allergen and plain menus. We have seen a steady increase in its usage since launch, and this reporting is also useful as it shows what menus people choose to download.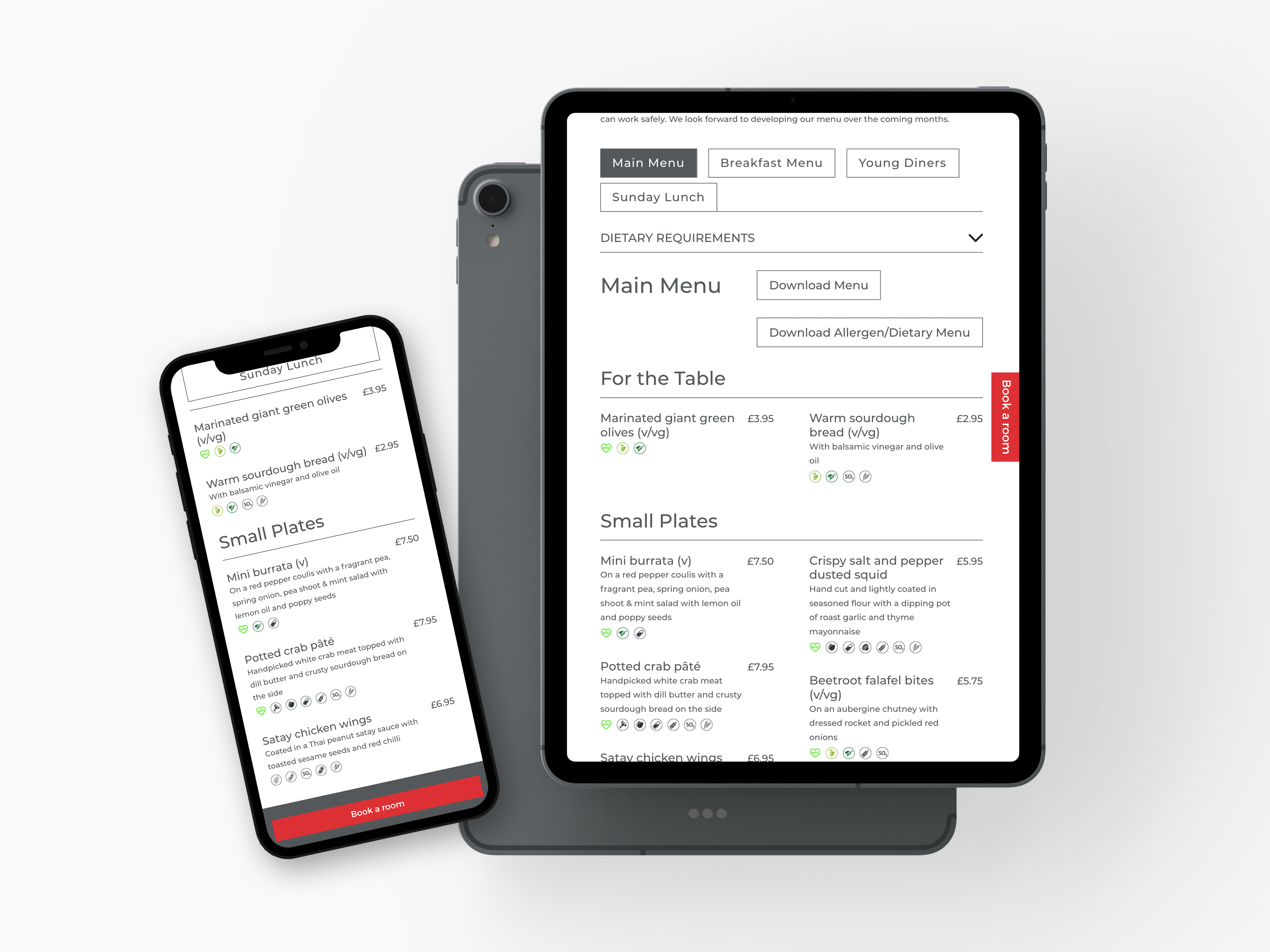 All our core menus are published from head office, but we currently have the system set up so that all our sites can publish their own specials menus daily from an approved bank of recipes. It allows me to pre-program all pricing, so each head chef or manager literally only has to pick the dishes they want to sell and publish them to the pub website daily. This allows the chefs to ensure their dishes meet all legal requirements in a quick, easy way. As a result, we have seen an increase across our estate in the number of specials being sold. I still retain complete control over our recipe system and Ten Kites, but our chefs can have controlled access to the system.
Future plans
Ten Kites is constantly innovating to introduce new features that allow us to further improve the customer journey and create a more user-friendly experience for our chefs. Each time a new feature is launched, the communication and training provided by Ten Kites has been excellent.
We are currently looking to implement the Menu and Print tool in a number of our sites, which will allow the teams to change menus more frequently than ever before. Along with fixed templates for both menu content and design, this will also remove a great deal of time for both chefs and head office staff. The simple way in which Ten Kites connects to our recipe management system has made this process far easier than I expected.
As with most programs there is no 'one fit' for all we need, but Ten Kites has been extremely proactive in its planned road map and implementation and improvement of the program since we first started using it.